In a Nutshell
In Home Warranty is an established company based in New Jersey and owned by Choice Home Warranty. Since 2008 they have been providing quality service to their warranty holders nationwide, through their 24/7 customer service center. Best For homeowners who want a basic plan with an affordable premium
pros
13 months available for the price of 12
A specific customer service representative will handle your claim
Contractor appointments within two days
cons
Only basic information available before a quote request
Limited customer reviews available online
InHome Warranty Visit Site
In Home Warranty Highlights
First month of warranty coverage is free.
24/7 customer service.
Add-on options for additional systems and appliances.
Transparency
There is very little information available on the In Home Warranty website - it is basically just three pages. The front page has a form for you to submit for a quote and a bullet point list of items that they cover. The other two pages are linked from the small print at the bottom of this page.
In Home Warranty's Coverage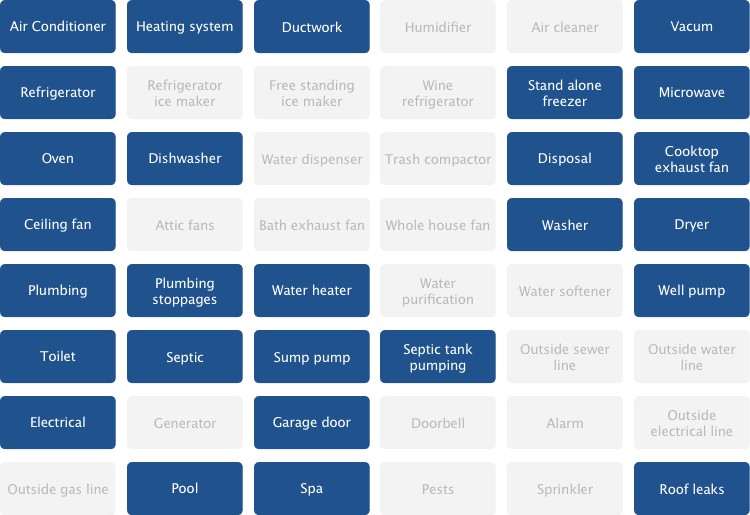 In Home Warranty offers two plans. The 'Total' plan covers the electrical, heating and air conditioning systems, the water heater, plumbing system, plumbing stoppages, dishwasher, refrigerator, oven/stove, washing machine, clothes dryer, ceiling and exhaust fans, garage opener, garbage disposal, and ductwork. The second plan is the 'Basic', which covers most of the same systems and appliances as 'Total' but excludes air conditioning system, refrigerator, washing machine and dryer.
They also offer optional coverage for items such a pools, spas and sump pumps.
Terms and Conditions
Terms and conditions for In Home Warranty are very similar to the average home warranty company, there are no strange exclusions or unusual requirements. Service fees are $60 per call out and coverage begins 30 days after they receive your premium.
Customer Service
Customer service representatives are available to take your call 24 hours a day, 7 days a week. In Home Warranty strives to have a contractor to you within two days for claims submitted during business hours and four days for claims submitted during a weekend or public holiday.
When you call to submit a claim, you are assigned a dedicated customer service representative. They are your single point of contact and will be responsible for your claim from beginning to end.
Contractors
In Home Warranty subcontracts their service calls to a select team of qualified service technicians based in the communities they serve.
InHome Warranty Visit Site
To Sum It Up
Not a lot of information is available from In Home Warranty until you submit a request for a quote. When that information is provided it is easy to understand and offers no surprises with regard to coverage or terms of service.
A small home warranty company that could do more to offer information.
About In Home Warranty
In Home Warranty is a small but dedicated home warranty company based in New Jersey. Founded in 2008 they provide basic plan and an exceptional customer service experience
Industry: Home Warranty
Founded: 2008
CEO: N/A
Founder: Choice Home Warranty
Geos: Nationwide
Links to social pages:
Facebook: no page
Twitter: no page
Google+: no page